We are seeing plenty of regulatory changes around the world, with a growing focus on reducing pollution and ensuring a healthy environment. There are several important regulatory initiatives that are happening in key jurisdictions.
"Zero draft" of global plastic pollution treaty 
On Sept. 4, 2023, the Intergovernmental Negotiating Committee on Plastic Pollution released a draft of the Global Plastics Treaty, which aims to protect human health and the environment. In March 2022, 175 countries agreed to write a global treaty to address plastic pollution and this new document is the next step.
The draft treaty includes a collection of proposals for ways to address the issue of plastic pollution. Some options include:
• Scaling back the use and manufacturing of plastic by having countries set their own reduction targets or meet a global target established in the treaty.
• Phasing out microplastics, such as microbeads, that are intentionally added to products.
• Reducing or eliminating "problematic and avoidable plastic products" such as plastic straws and cutlery.
• Tighter controls on chemicals used in plastic production.
• Taking measures to eliminate the production, sale, distribution, import and export of chemicals and polymers of concern.
• Establishing and maintaining certification procedures and labeling requirements for plastics and plastic products.
• Promoting the reduction, reuse, refill, repair, repurposing and refurbishment of plastic products.
• Establishing minimum required percentages of safe and environmentally sound post-consumer recycled material in the production of plastics.
• Taking measures to foster innovation and to incentivize and promote the development and use at scale of safe, environmentally sound and sustainable non-plastic substitutes.
• Establishing and operating Extended Producer Responsibility (EPR) systems.
• Taking effective measures on safe and environmentally sound waste management at its different stages, including handling, collection, transportation, storage, recycling and final disposal of plastic waste.
The options laid out in the draft are meant to reflect a range of input and views from various members of the treaty. It is yet to be determined if reduction targets and timelines will be set at the national or global level, and if countries will be required or simply encouraged to implement specific parts of the treaty.
EU Commission restricts microplastics
On a related note, the European Union (EU) commission implemented new rules in September 2023 to prevent the release of plastic into the environment by prohibiting the sale of microplastics and of products containing intentionally added microplastics that release tiny fragments when used.
A broad definition of microplastics has been established, covering all synthetic polymer particles below five millimeters that are organic, insoluble and resistant to degradation.
The first measures came into force 20 days after the regulation was published, including a ban on loose glitter and microbeads used for exfoliation in cosmetics. Other restrictions will apply after a longer period of 4–12 years, depending on the complexity of the product and the need for reformulation. This grace period is intended to give affected companies time to phase out microplastics and find suitable alternatives.
Outside the scope of the ban are products that contain, but do not release, microplastics, products that are used at industrial sites and products that are regulated under other EU legislation, such as medicines.
New labeling for 56 fragrance allergens
On July 26, 2023, the EU commission published Regulation (EU) 2023/1545, which amends Cosmetics Regulation (EC) 1223/2009 by adding 56 new fragrance allergens and updating restrictions to certain already-listed substances.
Substances that are considered fragrance allergens must be added to the label of a cosmetic product when present at concentrations greater than 0.001% in leave-on products and greater than 0.01% in rinse-off products. Chemicals such as prehaptens and prohaptens, which can be transformed to known allergens through oxidation or bioactivation processes, are subject to the same labeling requirements. Some examples of new fragrance allergens on the list include menthol, camphor, vanillin, lemongrass oil, eucalyptus oil and rose extract.
Existing entries have also been revised with more up-to-date nomenclature, grouping of similar substances and the inclusion of isomers. For example, previously, only one isomer of limonene was present on the list (d-limonene). The updated list now also includes l-limonene, as well as mixtures of both "d" and "l" isomers.
Regulation (EU) 2023/1545 entered into force on Aug. 16, 2023. The transition period for compliance with the new provisions ends July 31, 2026, for new products and July 31, 2028, for existing products. It is also worth keeping in mind that this list of fragrance allergens affects the required label elements under California's Cleaning Product Right to Know Act (SB 258).
Products sold online face EU regulatory scrutiny
Products sold online across the EU will soon have to undergo inspections to ensure they meet the requirements of the Classification, Labeling & Packaging (CLP) Regulation ([EC] No 1272/2008). The European Chemicals Agency (ECHA) enforcement group will be scrutinizing products as part of the REACH-EN-FORCE (REF)-13 Project to ensure that they comply with the Regulation on the Registration, Evaluation, Authorization & Restriction of Chemicals (REACH) and appropriately communicate the applicable hazards. Inspectors may also check for compliance with restrictions under the Persistent Organic Pollutants (POPs) Regulation and the Restriction of Hazardous Substances (RoHS) Directive and can additionally rely on stricter rules governing online sales, such as the Digital Services Act and General Product Safety Regulation.
REF-13 will be prepared in 2024, with inspections planned for 2025 and reports anticipated to be published in 2026.
Australia completes transition to GHS Revision 7
According to Safe Work Australia, GHS 7 is now the only system to classify newly manufactured and imported hazardous chemicals and prepare labels and safety data sheets (SDS) across Australia. Each State and territory of the Commonwealth has adopted GHS 7 in its Workplace Health & Safety (WHS) laws.
It is not required to re-label or dispose of existing products that were classified according to GHS 3. However, manufacturers and importers of hazardous products must ensure that the SDS follows GHS 7, even if the label does not.
Brazil takes steps to regulate PFAS
In May 2023, Bill PL 2726/2023 was proposed in the Brazilian Chamber of Deputies. The bill would establish a comprehensive national policy for the control of perfluoroalkyl and polyfluoroalkyl substances (PFAS) with the goal of controlling these "forever chemicals" in the environment and encouraging the adoption of sustainable practices in the production of consumer products and services.
The policy consists of measures and instruments for the control, monitoring, surveillance, prevention and remediation of the environmental and health effects associated with PFAS. Federal, State and municipal authorities would have duties with respect to the implementation of the law.
Industries that use PFAS would be required to present annual consumption and disposal reports for concerned substances. There is an emphasis for stakeholders to implement measures to reduce the use of PFAS with the aim of progressively eliminating them from products and manufacturing processes. The proposal also aims to educate the public about the health and environmental risks associated with PFAS and affirm the importance of research into contamination remediation technologies.
Once approved, the proposed law would come into force on the date of its publication.
As always, feel free to reach out to us at Nexreg Compliance Inc. with any global regulatory questions. SPRAY
By Nicholas Georges, HCPA Senior VP, Scientific & International Affairs with the HCPA Aerosol Products Division Plastic Aerosol PCR Task Force i
Sustainability has become an integral part of every business and companies have been exploring opportunities to improve their environmental footprint. This includes reducing energy use, decreasing emissions from transportation and redesigning primary, secondary and tertiary packaging.
Increasing the use of post-consumer recycled (PCR) content—through both voluntary initiatives and compliance with State mandates—is one way that companies are reducing the environmental impact of a product's packaging.
Companies in the household and commercial products industry should be aware of current rules in New Jerseyii and Washington Stateiii that set minimum PCR content requirements for rigid plastic packaging and household cleaning and personal care products in plastic packaging, respectively. However, some Federal requirements prevent packaging from containing PCR. Then what?
That's the exact issue for aerosol manufacturers and marketers that want to use plastic aerosol containers in the U.S. The Pipeline & Hazardous Materials Safety Administration's (PHMSA) requirements for plastic aerosol containers do not allow for the use of PCR, per 49 CFR 178.33b-6 (bolding added for emphasis):
Each container must be manufactured by thermoplastic processes that will assure uniformity of the completed container. No used material other than production residues or regrind from the manufacturing process may be used. The packaging must be adequately resistant to aging and to degradation caused either by the substance contained or by ultraviolet radiation.
A Federal regulation should pre-empt State requirements; however, it's always possible for a State to decide differently, which requires litigation to make the ultimate decision. Rather than spending significant time and resources going through the court system, members of the Plastic Aerosol Research Group, LLC (PARG)iv used both analytical and physical property test measurements to analyze the impact of container integrity with various levels of PCR, specifically Solid-Stated Polymerization (SSP) Polyethylene Terephthalate (PET), compared to plastic aerosol containers that used only virgin PET.
The analytical tests consisted of Intrinsic Viscosity (IV) and Differential Scanning Calorimetry (DSC), which indicate the strength, thermal stability and integrity of the material and can predict anomalies and degradation in the polymer.
Through these studies, PARG looked at the base resins, as well as the pre-forms made with resin variables of 100% virgin (no PCR), 25% PCR, 50% PCR, 75% PCR and 100% PCR (no virgin material). The results showed no significant differences between the virgin and PCR resin blends.
The physical property tests included the burst strength, drop impact and resistance to temperature conditions. The data demonstrated that adding solid-stated polymerization PCR to virgin PET can produce a container that is of equal quality to a virgin PET container. That being said, manufacturers and marketers must still perform testing to assure stability and performance of the container once a formulation has been added.
Based on the results of these tests, combined with previous researchv that showed UV exposure is not expected to cause any significant difference in the performance properties of virgin and recycled PET with similar intrinsic viscosities, PARG members were able to conclude that there is no significant difference in the physical integrity of plastic aerosol containers containing only virgin PET or various levels of SSP PCR.
While PARG completed its overall mission and has since dissolved, the Household & Commercial Products Association's (HCPA) Aerosol Products Division has published this work in a white paper, available here. HCPA and members of the aerosol industry will use this work to educate PHMSA in the hope that it will modify its regulation and allow the use of SSP PCR.
For more information on this work or to get involved with this advocacy, please contact Nicholas Georges at ngeorges@thehcpa.org. SPRAY
---
i Andy Franckhauser, P&G; Priyan Manjeshwar, Plastipak; Rodney Prater, SC Johnson; Scott Smith, Plastipak
ii S 2515
iii SB 5022
iv The Plastic Aerosol Research Group, LLC (PARG) was an internationally recognized consortium involved in the global advancement of the aerosol industry. The PARG charter was to grow the industry through good science and innovative processes. PARG was an advocate of the expansion of the aerosol container platform in an effort to grow the aerosol industry as a whole.
v Study of UV Degradation on Plastic (PET) Aerosols, Rochester Institute of Technology (RIT), Journal of Applied Packaging Research (full study available here)
At the Western Aerosol Information Bureau (WAIB) meeting in October, Industry received updates from the U.S. Environmental Protection Agency (EPA) and the California Air Resources Board (CARB) concerning ongoing activities.
EPA AIM ACT
As reported in the last issue, the EPA released its Technology Transitions Final Rule under its American Innovation & Manufacturing (AIM) Act. Allison Cain from EPA's Technology Transition Branch presented on the Final Rule and its effect on aerosol products. This rule sets specific restrictions for numerous sectors of the Industry. Following are the specific restrictions on aerosol products, which include restrictions on use of hydrofluorocarbons (HFCs), record keeping, reporting and labeling requirements.
HFC restrictions
As of Jan. 1, 2025, EPA is restricting the use of all HFCs with a Global Warming Potential (GWP) greater than 150 in aerosol products. Some categories will have until Jan. 1, 2028, to utilize HFCs higher than 150 GWP. Thus, as of Jan. 1, 2028, all aerosol products can only use HFCs with a GWP of 150 or less. This includes an extension for the use of HFC-43-10mee and HFC-245fa in aerosols until Jan. 1, 2028.
Below are the categories that have the Jan. 1, 2028, extension:
• Cleaning products for removal of grease, flux and other soils from electrical equipment or electronics;
• Refrigerant flushes;
• Products for sensitivity testing of smoke detectors;
• Lubricants and freeze sprays for electrical equipment or electronics;
• Sprays for aircraft maintenance;
• Sprays containing corrosion preventive compounds used in the maintenance of aircraft, electrical equipment or electronics, or military equipment;
• Pesticides for use near electrical wires or in aircraft, in total-release insecticide foggers, or in certified organic use pesticides for which EPA has specifically disallowed all other lower-GWP propellants;
• Mold release agents and mold cleaners;
• Lubricants and cleaners for spinnerets for synthetic fabrics;
• Duster sprays specifically for removal of dust from photographic negatives, semiconductor chips, specimens under electron microscopes and energized electrical equipment;
• Adhesives and sealants in large canisters;
• Document preservations sprays;
• Topical coolant sprays for pain relief; and
• Products for removing bandage adhesives from skin.
Remember, HFC-152a has a GWP of less than 150 GWP, so is therefore not restricted under this rule.
Products manufactured or imported before their respective effective dates of Jan. 1, 2025, or Jan. 1, 2028, have a three-year sell-through period.
Labeling
Products using an HFC will be subject to a labeling requirement starting Jan. 1, 2025. To comply, the chemical name(s) or American Society of Heating, Refrigerating & Air-Conditioning Engineers (ASHRAE) designation of any regulated substance(s) or blend containing a regulated substance used must be on the label, in packaging materials or through an on-product QR code. The permanent label must be in English, be durable and the chemical name(s) must be readily visible, legible and displayed on a background of contrasting color. If other packaging material contains the disclosure, it must meet the requirement of the permanent label and be present with the product at the point of sale and import. If a QR code is used, it must direct to the required information and meet all the requirements of the on-product label. The QR code must be functional and include adjacent text to indicate the purpose of the QR code.
Date Code
The regulation requires the full date code or, at a minimum, the four-digit year of manufacture. Clarification would be needed if a volatile organic compound (VOC) date code is sufficient.
Reporting & recordkeeping
Reporting starts Jan. 1, 2025. There are numerous requirements. If you are subject to the Technology Transitions Final Rule, I suggest review of the regulation at epa.gov/climate-hfcs-reduction/regulatory-actions-technology-transitions.
For those wondering, small cans of Automotive Refrigerants are not subject to this rule.
Finally, while this regulation is not ideal, it is much better than the proposal. Thanks to all who were involved.
CARB
CARB personnel had a panel of three people at the WAIB conference to discuss its ongoing activities. Ravi Ramalingam, José Gomez and Liang Liu provided a short presentation followed by a Q&A period.
The panel began by discussing the State Implementation Plan (SIP). The new 2022 SIP requires CARB staff to reduce VOC or VOC-equivalent emissions by 20 tons per day (TPD) from Consumer Products statewide by 2037. CARB is proposing to have a rulemaking finished by 2027.
CARB is working on developing a product category survey to send to the Industry. It is considering any categories that might have been affected during the COVID-19 pandemic, as well as categories that have not been regulated, categories with toxic compounds and product categories that were dropped in the past rulemaking. Aerosol Coatings will be reviewed, yet again.
CARB is further working on implementing the new Innovative Product Exemption (IPE) provisions for compressed gas and liquefied propellants. Remember, only Hairspray, Dry Shampoo and Personal Fragrance products can use these IPE provisions, which provide the Industry the opportunity to utilize reactivity in these categories. The use of reactivity under these provisions may lead to a better performing product.
Finally, CARB is working on the Personal Fragrance Products technical assessment for the 2031 limits.
Industry asked the panel numerous questions; the most pressing was when will the survey be released? CARB responded with Soon! No one knows what that means, so look forward to working with CARB staff more in the future.
SCAQMD
The South Coast Air Quality Management District (SCAQMD) began work to develop amendments to its Auto Refinish Rule 1151. At the top of the list is a ban of the use of tertiary butyl acetate (tBAc) and para-Chlorobenzotrifluoride (pCBtF) in Automotive Coatings.
On Nov. 7 of this year, SCAQMD had its first work group meeting on this rule. Staff asked for information on these two Automotive Coatings compounds. In addition, it is likely SCAQMD will send out a survey on these coatings.
SCAQMD is planning to have a board hearing to adopt any amendments in 3Q 2024. Therefore, about a year from now, staff plans on completing this rule amendment. This is not a lot of time considering it has not been modified since 2005. There will be more to come on this.
Wishing everyone a very Merry Christmas and a Happy & Prosperous New Year! SPRAY
Part 3
Hello, everyone. This month, we'll complete the three-part series begun in (part 1, October), (part 2, November) with a discussion on how coating glass transition temperature (Tg) changes when formula ingredients permeate coatings, as well as how higher storage test temperatures can produce misleading corrosion test results.
Coatings have physical properties, such as tensile strength and barrier strength that disappear when the coating temperature is at or above the coating's Tg. In other words, a coating loses its physical properties when the temperature is above its Tg.
The internal coating for a spray package is dry before it is filled. Examples of dry coating Tg magnitudes are:
• Epoxies and polybutadiene are around 100°C (212°F)
• Nylon 6 is around 47°C (116.6°F)
• Nylon 6,6 is around 79°C (174.2°F)
• Polypropylene is around -10°C (14°F)
• PET has a Tg between 69°C (156.2°F) and 85°C (185°F), depending on the PET grade
Internal package coatings typically become wet shortly after the package is filled with product, because formula ingredients absorb into and diffuse through the coatings. Consequently, the internal dry coating Tg for a new, unfilled package is higher than the Tg for the same coating after the package is filled with product. For example, the Tg for a dry epoxy coating is 100°C (212°F), but the corresponding Tg for the same wet coating is around 50°C (122°F).
It is often assumed that a higher storage temperature will accelerate both the coating's and the metal's corrosion rates, thus allowing the time needed for storage stability corrosion tests to be reduced. This assumption is based on the Arrhenius equation that states chemical reaction rates double for every 10°C (50°F) increase in temperature.
However, metals and coatings do not follow the Arrhenius equation because the corrosion rates for both do not satisfy the two conditions for valid application of the Arrhenius equation:
1. The chemical reaction is first order
2. The chemical reaction rate is controlled by its energy of activation
In addition, metal corrosion is not a pure chemical reaction, but a combination of a chemical reaction (metal atoms change state to metal ions) with an electrical charge transfer between the metal and its environment. An environment can be either a formula or the permeate diffusing through a coating to the metal underneath.
Figure 1 illustrates how the Tg for a wet coating changes with increasing temperature. The metal corrosion rate under an epoxy coating is plotted on the Y-axis (log scale) and the corresponding temperature is plotted on the X-axis. The liquid-permeate in this case is water, and the coating was completely saturated.
The inflection point for the graph is around 50°C (122°F), which is the most likely estimation for the wet epoxy coating Tg.
The corrosion rate in Figure 1 decreases from approximately 0.016mm per year at 20°C (68°F), to approximately 0.004mm per year at 60°C (140°F) (-1.8 and -2.3, respectively on the Y-axis). In this case, increasing the temperature actually decreases corrosion instead of increasing it, contrary to expectations from the Arrhenius equation.
In addition, the corrosion rate at 20°C (68°F) (0.0159 mm/year) is more than three times larger than the rate at 40°C (104°F) (0.005 mm/year), indicating that corrosion is worse at room temperature (20°C/68°F). This trend also contradicts the Arrhenius equation. I have actually seen numerous storage tests where the room temperature corrosion was worse than the higher temperature corrosion, and vice versa.
It's tempting to say from Figure 1 that temperature accelerates corrosion as the temperature is increased above 50°C (122°F). However, the corrosion rate at 80°C (176°F) should actually be greater than 0.016mm per year instead of 0.008mm per year–also not consistent with the Arrhenius equation. Consequently, it's more accurate to conclude that the wet coating is no longer a barrier when temperatures are above the 50°C (122°F) wet epoxy Tg.
Therefore, I typically do not recommend shortening storage test length with higher storage temperatures. Corrosion test length can be reduced with electrochemical measurements when the appropriate instruments, measurement parameters, exposure times, analysis protocols, sample size and data analysis and interpretation protocols are used.
Summary of Parts 1–3
Part 1: Coatings do not always prevent corrosion and are not always needed to prevent corrosion. Whether or not a coating is needed to protect a metal from corrosion is determined by a complex interaction between a formula's chemical composition, the type of metal and the type of coating, as well as a variety of metal surface attributes that produce various coating defects.
Part 2: Defects in coatings are always present and typically not visible with either the unaided eye or a light microscope. Consequently, electrochemical measurements with sensitive instruments are needed to detect and measure if these defects will or will not cause package corrosion.
Part 3: The Tg of a coating decreases when it becomes wet. Absorption of formula ingredients into coatings cause them to become wet and subsequently degrades coating properties, such as its Tg. Raising storage temperatures to evaluate the corrosion resistance of coated metal packages does not reliably predict package corrosion in a smaller amount of time.
Thanks for your interest and I'll see you next year. Contact me at 608-831-2076; rustdr@pairodocspro.com or from our two websites: pairodocspro.com and aristartec.com. SPRAY
The European Green Deal is a top priority of the von der Leyen Commission, and one of its aims is to make the European Union (EU) climate neutral by 2050. To make this objective legally binding, the EU adopted the Regulation (EU) 2021/1119 in June 2021. This is also referred to as the European Climate Law, which sets an ambitious net greenhouse gas (GHG) emissions reduction target of at least -55% by 2030, compared to 1990 levels. The recently appointed Dutch Commissioner in charge of climate action, Wopke Hoekstra, is expected to propose an ambitious climate target for 2040 in the first quarter of 2024.
The "Fit for 55" package aims to translate the climate ambitions of the Green Deal into law. This package is a set of proposals to revise climate-, energy- and transport-related legislation and put in place new legislative initiatives to align EU laws with the EU's climate goals.
I do not intend to cover the entire package, rather only two relevant pieces of legislation:
1. The EU Carbon Border Adjustment Mechanism (CBAM)
2. The EU Fluorinated Greenhouse Gases Regulation (F-gas Regulation)
CBAM
As the EU raises its climate ambition, and as long as less stringent climate policies prevail in many non-EU countries, there is a risk of so-called "carbon leakage," which occurs when companies based in the EU move carbon-intensive production abroad to countries where less stringent climate policies are in place than in the EU, or when EU products get replaced by more carbon-intensive imports.
The EU Carbon Border Adjustment Mechanism (CBAM) is the legal instrument used to put a fair price on the carbon emitted during the production of carbon intensive goods that are entering the EU, and to encourage cleaner industrial production in non-EU countries.
The CBAM Regulation (EU) 2023/956 entered into force on May 17, 2023, and came into effect on Oct. 1, 2023.
The gradual introduction of the CBAM is aligned with the phase-out of the allocation of free allowances under the EU Emissions Trading System (ETS) to support the decarbonization of EU industry.
By confirming that a price has been paid for the embedded carbon emissions generated in the production of certain goods imported into the EU, CBAM will ensure the carbon price of imports is equivalent to the carbon price of domestic production and that the EU climate objectives are not undermined. CBAM has been designed to be compatible with World Trade Organization (WTO) rules. It covers imports of covered goods from non-EU countries, except those participating in, or that are linked to, the EU Emissions Trading System (ETS)—currently Iceland, Norway, Liechtenstein, Switzerland and five other minor territories.
The new provisions initially affect goods imported from non-EU countries that are particularly carbon-intensive, namely specified goods within the cement, electricity, fertilizer, aluminum, iron, steel and hydrogen sectors, as well as some upstream and downstream products made mainly from iron, steel and aluminum. Both aluminum and tinplate steel aerosol containers are included in the list of goods, under Custom Codes 7310 and 7612.
After implementation of CBAM, the European Commission plans to extend the scope of application to all sectors subject to EU emissions trading by 2030.
In the transitional phase of CBAM implementation—from Oct. 1, 2023 to Dec. 3, 2025—affected companies are subject to a reporting obligation without financial obligation.
The European Commission has developed dedicated IT tools to help importers perform and report these calculations, as well as in-depth guidance, training materials and tutorials to support businesses when the transitional mechanism begins. While importers were asked to collect fourth quarter data as of Oct. 1, 2023, their first report will only have to be submitted by the end of January 2024. This first step alone is likely to pose challenges for many companies.
Once the permanent system enters into force on Jan. 1, 2026, importers will need to declare, each year, the quantity of goods imported into the EU in the preceding year and their embedded GHG. They will then surrender the corresponding number of CBAM certificates. The price of the certificates will be calculated depending on the weekly average auction price of EU ETS allowances expressed in €/tonne of CO2 emitted.
The phasing-out of free allocation under the EU ETS will take place in parallel with the phasing-in of CBAM in the period of 2026–2034.
Only registered declarants will be allowed to import CBAM goods. The customs authorities of the EU member states will monitor the movement of goods and deny the import of CBAM goods by non-registered declarants.
Therefore, from January 2026, prices of metal aerosol cans imported into the EU will inevitably increase. I encourage aerosol fillers in the EU who use imported metal aerosol cans to engage in dialogue with their supplier(s). Importers of metal aerosol cans should assess the necessary IT solutions for recording and determining carbon dioxide equivalent emissions and the related reporting workload.
F-gas Regulation
The EU is taking regulatory action to control Fluorinated Greenhouse Gases (F-gases) as part of its policy to combat climate change.
Hydrofluorocarbons (HFCs) are by far the most relevant F-gas group from a climate perspective, although they are relatively short-lived. The other two prominent F-gas groups, perfluorocarbons (PFCs) and sulphur hexafluoride (SF6), can remain in the atmosphere for thousands of years.
The first F-gas Regulation was already adopted in 2006 and succeeded in stabilizing EU F-gas emissions at 2010 levels.
The second F-gas Regulation was adopted in 2014 with the aim to cut F-gas emissions by two-thirds by 2030 in the EU, compared to 2014 levels.
The European Parliament and Council recently reached a provisional agreement for a third F-gas Regulation.
The use of HFCs will be reduced by 95% by 2030 compared to 2015, going down to zero by 2050; this means there is no more phase-down but rather a total phase-out of HFCs by 2050.
From 2025, the HFC quota that the Commission allocates every year will be sold for €3 per tonne of CO2 equivalent.
Beyond the existing restrictions of F-gases in One-Component Foams (polyurethane), HFCs in aerosol dispensers for entertainment and decorative purposes, HFCs in signal horns and HFCs in technical aerosols, the deal introduces a new restriction on F-gases used in personal care products from Jan. 1, 2024. Pay attention to this tough deadline if your company still exports personal care aerosols from the U.S., very likely containing HFC-152a, to the EU. It also means that HFO-1234ze will also be prohibited in personal care aerosols. Finally, the existing restriction on HFCs in technical aerosols will be supplemented by a new restriction of all F-gases in technical aerosols, except when required to meet safety requirements or when used for medical applications, from Jan. 1, 2030. What is meant by "safety requirements" is legally defined in the text, but there is no definition of "technical aerosols" anymore.
For the first time, certain exports are prohibited, including the export of technical aerosols that contain F-gases with a GWP of 1,000 or more. Technical aerosols containing HFC-134a manufactured in the EU for export will need to stop production and eventually delocalize outside of the EU. Any aerosol products containing HFC-152a or HFO-1234ze manufactured in the EU may continue to be exported outside the EU.
Affected companies will need to embrace these changes without delay depending on their individual situation.
FEA will continue to facilitate the exchange of expertise on policy and industry issues. The next Global Aerosol Summit within the Aerosol & Dispensing Forum (ADF), Paris Packaging Week 2024, will be held Jan. 17–18 in Paris, France. This is a moment not to be missed. Such an interactive event, designed for the global aerosol industry, remains essential to maintain high-level expertise and experience for a thriving aerosol community. I'll see you in Paris soon. SPRAY
When I worked in R&D, I was often asked how well I knew the products I was creating. I, of course, thought that I knew these products better than anyone else—I was the one making them, after all. I knew why I had chosen one ingredient over another, why I decided to use a particular concentration or how I determined that a specific order of addition was required to achieve the desired formulation.
However, the level of scrutiny surrounding the ingredients in a product (intentionally added or not) has significantly increased since I was in the lab almost a decade ago. Demand for more transparency from consumers, non-governmental organizations (NGOs), legislators and regulators has resulted in longer lists of chemicals of concern, which include more impurities and contaminants than intentionally-added compounds. In addition to longer lists, there have also been improvements to analytical instrumentation that allow for detection of parts-per-billion and even parts-per-trillion in some cases.
Even with this level of detection, it is nearly impossible for one company to know every detail about a product on its own. However, it is still the responsibility of each company to know what is in their product, and it is critical to work with the entire supply chain to discover this information. A thorough evaluation will help companies understand, not only what is being tested, but also what theoretical substances could be within various materials throughout the product's life cycle, such as unintended reactions during manufacturing, interactions in the final package, potential sources of contamination or instability in the final product. Additionally, consideration of what substances could theoretically be in a product is more important now than ever because current analytical techniques will eventually advance to provide new intelligence.
Ultimately, this information will guide a company's supplier choice(s), specifications or analytical capabilities beyond the traditional pricing and capacity considerations. Today, these are important factors to consider because a company's reputation or brand could be damaged by the presence of a chemical of concern.
Communication throughout the supply chain is even more critical for aerosols because of the potential difficulties in testing the finished product. Understanding the analytical instrumentation and its ability to detect a particular substance at low levels requires the expertise of analytical chemists who are trained on each specific instrument and type of chemistry. While spraying an aerosol product is easy and convenient for consumers and workers, it is not that simple for analytical testing purposes, which is why such a high-level of expertise is required. The tester needs to understand the chemistry within the product, whether the analyte is in the concentrate or the propellant, and the packaging. Depending on the situation, different methodologies must be employed for the sample preparation and be compatible with the analytical instrument. I don't want to oversimplify the testing of raw materials; however, most ingredients and components are easier to analyze that a finished aerosol product.
We've all heard about a time (or been in the situation ourselves) when a chemical of concern has been found in a product. Asking the right questions is key:
• Was the chemical present in the formulation or the packaging?
• Is the chemical in all lots of the product?
• Is the chemical present, but at differing levels than reported?
• Were the samples prepared and properly analyzed using a validated method?
The answers to these questions will be ready and available if there is communication and collaboration across the supply chain. Product manufacturers must be informed at every step of the way, understanding everything from analytical capabilities to their vendor's compliance to what could theoretically be within a material.
At the end of the day, the finished aerosol product manufacturer is responsible for what is in the container, so it's important to do your due diligence! Understanding the latest information on chemicals of concern, including how they are being tested, is at the top of the list. Otherwise, how will you respond if a third party tests your product and claims the presence of a chemical of concern?
How well do you know your product? Would you be comfortable answering challenging questions from regulators or if subpoenaed?  If you don't already know, this is your sign to contact your supply chains to ask how they test for chemcials of concern.
There was significant activity last month.
AIM
The Technology Transitions Final Rule under The U.S. Environmental Protection Agency's (EPA) American Innovation & Manufacturing (AIM) Act was made publicly available on Oct. 6 as a pre-publication. We expect the Final Rule to be the same. The Technology Transitions Rule restricts the use of hydrofluorocarbons (HFCs) by sector or subsector, meaning aerosols, foams, refrigeration and air conditioning, as well as heat pump products and equipment. Beginning Jan. 1, 2025, certain HFCs will be restricted in these sectors. The prohibitions apply to manufacture, distribution, sale, installation, import and export of products containing restricted HFCs. Deadlines and Global Warming Potential (GWP) limits vary based on sector. Think of this rule as the newer version of the Significant New Alternatives Policy (SNAP) Rule.
The Technology Transitions Final Rule is 433 pages long. The pre-publication version was signed on Oct. 5 by the EPA Administrator, Michael Regan. As of this writing, I have not had time to review it in detail. I have reviewed the Aerosol Sector restrictions (pp. 330–332) and the following is a quick summary; more information will be available in the next column, after a more thorough review:
• Starting on Jan. 1, 2025, EPA is restricting the use of HFCs and blends containing HFCs in aerosols to a GWP of 150 or less.
• EPA is extending the restriction deadline for certain technical aerosol use until Jan. 1, 2028. The technical uses of aerosols are the following:
o Cleaning products for removal of grease, flux and other soils from electrical equipment or electronics;
o Products for sensitivity testing of smoke detectors;
o Lubricants and freeze sprays for electrical equipment or electronics;
o Sprays for aircraft maintenance;
o Sprays containing corrosion preventive compounds used in the maintenance of aircraft, electrical equipment, electronics or military equipment;
o Pesticides for use near electrical wires or in aircraft, in total release insecticide foggers or in certified organic use pesticides for which EPA has specifically disallowed all other lower-GWP propellants;
o Mold release agents and mold cleaners;
o Lubricants and cleaners for spinnerets for synthetic fabrics;
o Duster sprays specifically for removal of dust from photographic negatives, semiconductor chips, specimens under electron microscopes and energized electrical equipment;
o Adhesives and sealants in large canisters;
o Document preservation sprays;
o Topical coolant sprays for pain relief; and
o Products for removing bandage adhesives from skin
EPA has granted a three-year extension to all products that were originally given an extension under the original SNAP Ruling. However, this time, there is final deadline for use. Also, there is a three-year sell-through for any technical products manufactured before Jan. 1, 2028.
Industry worked with the EPA on this rule to try and make it reasonable; time will tell whether or not we were successful. Visit: here
Clark County, Nevada 
You may recall that Clark County is developing a consumer products regulation. Industry is still working with the county agency to determine the effective date or the sell-through date. Both are critical for compliance issues. The good news is that Clark County has abandoned its ridiculously short time frames. Currently we are looking at six months or a year for effective date and sell-through. While these are still very short time frames, the dates proposed are better than before. Industry will continue to monitor this rule.
Canada
There are only two months until Canada's Consumer Product Rule takes effect. Remember, all non-compliant product should be in Canada before the effective date of Jan. 1, 2024, to receive the sell-through provision. SPRAY
Hello, everyone. In the last issue, we began a three-part series (Part 1) with a discussion on how the complex composition of metal surfaces causes coating pores and voids and how they allow formula ingredients to absorb into and through coatings.
Epoxy, Micoflex, polyethylene terephthalate (PET) and bi-layer nylon-polypropylene laminate films are typically used as internal coatings for spray packages. I will continue to refer to both coatings and laminate films as "coatings" because the corrosion science is the same for both.
The intention is for the coating to act as a barrier between a formula and the underlying metal or metal foil. Consequently, it often comes as a surprise when a c oating is corroded by a formula.
Internal coatings on metal are dry when packages are removed from their pallets for product filling. Liquid dispersed throughout a coating transforms it from a dry coating to a wet coating, and a dry coating has significantly different properties than those of a wet coating, such as the ability to be a barrier between the package substrate metal and a formula.
A "skin over metals"
Think of coating as a skin over metals. Human skin is a natural polymer that provides a good analogy for the corrosion of coatings used for spray package coatings and laminate films.
Formula ingredients, such as water and emollients, can absorb into skin and subsequently modify its properties, such as causing it to wrinkle or make it feel soft, respectively. Skin properties could also be modified by formula pH. For example, a liquid will cause a burning sensation on skin when the liquid pH is higher or lower than around 5.5 and the burning sensation typically intensifies as the pH moves further from 5.5.
Like skin, the properties of coatings are also modified when materials absorb into a coating. The intensity of the modification depends on the type of coating, its morphology, how it was deposited inside the package, the chemical composition of the formula and the amount of liquid dispersed throughout the coating.
Diffusion of a liquid-permeate into and through a coating could cause:
1. The coating to become a semi-permeable membrane that allows an either a non-corrosive or corrosive liquid to diffuse into and through the coating
2. Loss of the coating's barrier property
3. Lowering of the coating's glass transition temperature (Tg)
As mentioned in the above list, formula ingredients absorbing into coatings could cause the coatings to become a semi-permeable membrane instead of a barrier layer. A semi-permeable membrane—originally a dry coating—allows select formula ingredients to diffuse into and through the coating. Hence, the chemical composition of the liquid-permeate is typically different from the chemical composition of the formula inside the package.
In this situation, the liquid-permeate typically causes corrosion of the coating (with delamination from the metal), corrosion of the underlying metal or both coating and metal corrosion. Both the formula's chemical composition and the pH of the liquid-permeate determine if coating or metal corrosion will occur, or if both will occur together.
Some of the more common formula ingredients that typically absorb into coatings, and potentially cause both coating and metal corrosion, are:
• The metal cations from organic and inorganic  salts
This list is by no means an exhaustive one.
Formula-ingredient absorption into a coating could also cause it to lose its barrier properties—either partially or completely. Loss of barrier properties often leads to coating delamination from the substrate metal and/or corrosion of the metal under the coating.
Coating corrosion could be either localized—such as blisters (Figure 1) or general, widespread delamination (Figure 2). Package metal corrosion could also either be localized under blisters or under wide areas of a coating. Metal corrosion also typically causes and/or accelerates the delamination of a coating.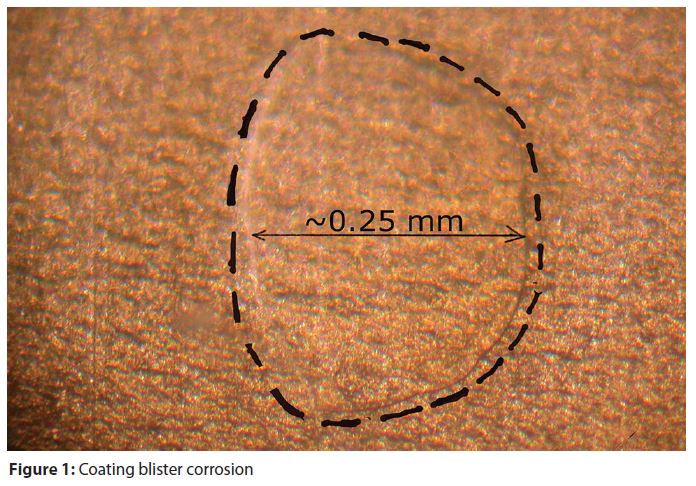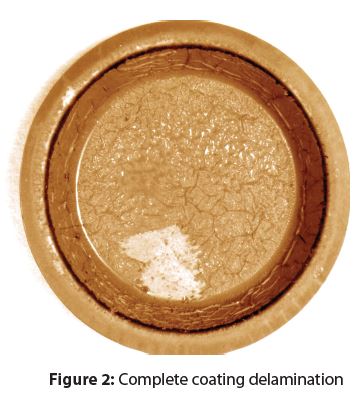 Absorption of formula ingredients also lowers a coating's glass Tg. Discussion of how Tg is changed by absorption, plus how increasing temperature affects a coating's Tg.
We will complete this three-part series in the next issue. We'll also discuss how raising temperature affects coating performance as a barrier and sometimes produces metal corrosion that does not occur at room temperature.
Many of you will realize that the UK is often different to many other countries. For example, we are seen to drive on the "wrong" side of the road. However, prior to the French Revolution, it was common to ride horses on the left-hand side of the road in continental Europe. This was because most people are right-handed and if one came across another knight on a thoroughfare and were going to go to do battle, one needed the sword hand to be free. France's national motto after the Revolution became "Liberté, égalité, fraternité"—there would be no more sword fights, and French knights were instructed to ride their horses on the right. Napoleon's subsequent empire meant that that rule was extended to the majority of Europe, where traffic still keeps to the right. Great Britain was never conquered by Napoleon, hence the British remained free to ride on the left.
The reason for mentioning this odd historical fact is that, probably unsurprisingly, the UK Government is looking at atmospheric emissions in a different way to many other countries in the world, and drilling data down to extreme detail.
Figure 1, taken from the 2019 UK Dept. for Environment, Food & Rural Affairs (DEFRA) Air Quality Strategy, shows the range of atmospheric pollutants UK Government is measuring.
The figures in Figure 2 are taken from a publicly accessible database called the National Atmospheric Emission Inventory (naei.beis.gov.uk); this concerns volatile organic compounds (VOC), or more accurately non-methane VOC (NMVOC).
This database not only provides top-line figures for NMVOC emission, but also details particular product sectors—for example, NMVOC emissions from the pulp and paper industry for the material supplied for food and beverages, or from field burning of agricultural waste. There is also a category for aerosols, which breaks down into three usage sectors: Household, Cosmetics & Toiletries (Personal Care) and Car Care products.
On one hand there is a highly detailed picture of all the sources of an incredibly wide range of airborne pollutants. On the other hand, NMVOCs have a single definition:
"NMVOCs comprise all organic compounds except methane, which at 293.15 K, show a vapor pressure of at least 0.01 kPa (i.e., 10 Pa) or which show a comparable volatility under the given application conditions" (Source).
The UK Government has a 2005 baseline against which airborne pollutant emissions are measured. While the UK was part of the EU, those targets were set by Brussels. This included NMVOC as one amorphous lump with little thought on reactivity or speciation—simply a total amount of NMVOC emissions. The UK has done a good job in meeting the targets set by Brussels; in fact, it is expected the UK will meet the 2030 targets long before the due date.
However, UK regulators are now looking at the detailed breakdown, which shows that in 2005, aerosols accounted for about 4% of total NMVOC emissions. By 2030, it is estimated that aerosol product emissions could be as much as 11%. This is not because aerosols are emitting more NMVOC than before, but because most other industries, and the automotive sector in particular, have slashed their NMVOC emissions dramatically.
The BAMA NMVOC Pathway is our proposed route to address the UK Government's NMVOC targets by asking the aerosol industry to reduce its contribution to total emissions. The ambition is to avoid sector- or product-specific NMVOC targets by continuing to report the industry's emissions as a total. This is so that we can, as much as possible, maintain product efficacy and allow continued access to those products that need to have high levels of NMVOC to work. Who knows, there might even be some additional benefits when thinking about other areas being targeted by Government, such as greenhouse gas emissions. SPRAY
CARB
Industry awaits the California Air Resources Board (CARB) release of its next survey request. It was expected to be released during the Summer, but Summer has come and gone and there is still no survey. From discussions with CARB staff, it's thought that the survey might cover products used during the COVID-19 pandemic to determine if the sales levels of cleaning products, hand sanitizers and disinfectants had returned to normal.
Likewise, CARB had stated that categories that had been dropped during the last rulemaking may resurface. However, to date, that has not happened. CARB staff has been busy reviewing the use of toxins in product categories. Therefore, this next survey may be larger and somewhat different than what Industry had been expecting.
Due to the last State Implementation Plan (SIP), staff will bring before the Board in 2027 a plan to reduce further emissions from Consumer Products. While 2027 seems far off, rulemaking can take 18–24 months to complete. Throw in a survey that then needs to be completed by Industry and reviewed by CARB staff, which could take a year, and it brings us to a three-year time frame. CARB staff only needs to have a plan to reduce emissions by 2027, not complete a rulemaking (the rulemaking could take place after the report to the Board). Hopefully, this will be the case because the time needed to complete a comprehensive rulemaking is dwindling.
We should see a survey released this Fall. CARB is scheduled to present at the Western Aerosol Information Bureau (WAIB) meeting this month in Lake Tahoe and will certainly be asked about the survey at that time.
Other U.S. States
Ohio and Michigan regulations become effective this year. Both States moved from Ozone Transport Commission (OTC) Model Rule II to OTC Model Rule IV. Make sure you have adjusted the sale of your products to comply with these rules.
There is still no final rule in Clark County, NV.
Canada
As a reminder, the Canadian Consumer Product Regulation becomes effective on Jan. 1, 2024. While it is similar to the CARB regulation, there are some differences, which will be detailed in next month's column.
UK
On Sept. 6, the British Aerosol Manufacturers' Association (BAMA) held a meeting in London on Air Quality. The issues of Air Quality and volatile organic compound (VOC) reduction have been evolving in the UK for several years. The issue is not that aerosol VOC emissions are growing significantly in the UK, but that other sources of emissions are being reduced, such as vehicle and industrial emissions. This is similar to the situation we in the U.S. find ourselves in, especially in the South Coast Air Quality Management District (SCAQMD). Consumer Product emissions soon will be the primary category in SCAQMD.
BAMA has been formulating a plan that will assist Industry in working with regulators to prevent the type of regulation currently in place in California. The goal is for Industry to develop a strategy to reduce emissions from aerosols in different ways. For example, one strategy would be to compress or concentrate an aerosol product so that it could potentially offer double the amount of uses. By doing this, fewer cans will be used, thus fewer emissions will be produced. This will take time and we'll have to re-educate consumers on how to use the product all over again.
There were two presentations during the London meeting; the first explained the use of dimethyl ether (DME) to replace some solvents with water, thus lowering VOC emissions. This is nothing new in the U.S., as most manufacturers use this technique where possible.
The second presentation was on the use of N2 (nitrogen) or compressed gas. This technique, as we know, is very controversial because when compressed gas is used, more diluent is then needed. Typically, especially for Personal Care products (which was the example), ethanol is used. As we have learned, replacing liquified propellants with ethanol raises a product's reactivity, thus creating more ozone formation, which is not the goal. Also, removing liquefied propellants and adding ethanol does very little to remove overall VOC emissions.
I credit BAMA with working with regulators before actual regulations are formed. In addition, BAMA is trying to encourage Industry to start working on this issue now to possibly prevent aerosol regulation in the future. Their goal is lofty, but is worthy of merit, and we wish them luck. SPRAY