October feature: Scents of the Season
Written on: October 1, 2015 by Ava Caridad
Fragrances for home and body dominate holiday launches
---
According to the Winter Holiday Shopping U.S. report from market research firm Mintel, Christmas clearly dominates when it comes to winter holiday spending with a high 82% of respondents reporting spending related to this holiday, as compared to just 63% for Thanksgiving and 47% for New Year's. Other holidays including Hanukkah and Kwanzaa lagged significantly behind.
Across all three of the major holidays, families dominate in spending, with those in one- and two-person households significantly lagging, even when it comes to New Year's. Meanwhile, more affluent respondents actually are less likely to buy various products related to the holidays, possibly due to the presence of empty nesters in this category.
At 13%, holiday decoration purchases for New Year's lag well behind those for Christmas and even Thanksgiving. Since Christmas comes so shortly before New Year's, there can be little space on store shelves for promoting such items, and little enthusiasm among consumers whose homes are already filled with Christmas décor.
While Thanksgiving seems unlikely to emerge as a major gift-giving holiday, there would seem to be potential to expand purchases of holiday decorations and home scents.
Gifts for all
As would be expected, household size is an incredibly strong driver of Christmas purchases, particularly when it comes to gifts. Households with four or more people are more likely to buy in almost every gift category, while single-person households lag significantly behind in purchases not only of gifts, but also food, alcohol and decorations. As a result of the huge focus on family seen in many holiday marketing campaigns, it's not surprising that couples without children and those who live alone may feel left out and find it easy to ignore the holiday. Creating more marketing campaigns that celebrate friends at the holiday may be one approach; encouraging people to treat themselves and self-gift may be another, suggested Mintel.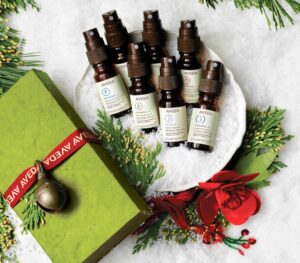 Happily, this year Aveda's "The Art & Science of Pure Flower & Plant Essences" introduced its 2015 holiday collection of gift sets, including the limited edition Seven-Aroma Mini Chakra set featuring seven aromas to support the feeling of balance. Each Mini Chakra comes in an 8mL bottle with pump supplied by Carow Packaging.
British lifestyle brand Joules recently launched its latest range of hand lotions, body lotions, shower gels and hand wash products. The products come in Country Herb, Currant Leaf, Blossom and Cottage Herb scents. The new line comes in Spectra's Flat Base Boston Round glass bottle with 12 different designs.
Russian personal care marketer Salonnaya Kosmetika unveiled Premium Homework, its new collection of four face creams based on the seasons. Winter Fantasy Morning Cream was specially created to protect skin from the Russian winter. It provides thermoregulation, protects vessels, retains moisture, and helps to keep a healthy complexion and smooth skin. Spring Cocktail Eye Cream-Elixir contains a complex of phytoestrogen, antioxidants and vitamins. It moisturizes and restores skin tone and elasticity, helps eliminate dark circles and puffiness and revitalizes the skin of eyelids. Summer Watercolor Cosmetic Cream helps improve the oxygen exchange and thermoregulation in the skin, moisturizes and reduces moisture loss. It has a light cooling effect and contains SPF. Velvet Season Night Cream was specially created for antioxidant protection of the skin in the off season. It moisturizes, removes dryness and flaking of the skin, contains vitamins and minerals, evens the complexion, helps prevent pigmentation and improves the protective properties of skin. The products utilize a customizable plastic 50mL airless bottle, Pearl 223 actuator, airless pump and overcap from Lumson.
Hair care for all seasons…
Hair care can be changed up all year with fun, seasonal products around for just a short time.
Wen by Chaz Dean Cleansing Conditioner in Limited Edition Summer Coconut Lime Verbena is a 5-in-1 formula that takes the place of shampoo, conditioner, deep conditioner and leave-in conditioner. Free of damaging ingredients that strip hair and scalp of its natural oils, it's a blend of herbs and natural ingredients for increased strength, manageability and color retention. The product doesn't lather and instead goes on as a thick, conditioning treatment. Other scents include Sweet Almond Mint, Fig, Lavender, Cucumber and Pomegranate.
For Halloween, Bumble and Bumble Spray Chalk is a limited edition color hair spray "for the edgy fashion set." Spraychalk is a unisex, quick-dry tinted powder for "spray today, gone tomorrow" hair styles. Sprayed on to dry hair, it adds color, grip and hold and washes out in one shampoo. Choose blush pink, rich cobalt, dusty lavender or muted mint to match a mood or costume. The 1.4 oz pressurized package is topped by the VX valve and S25 accessory with powder insert from Aptar.
To glow like a Christmas cherub, try Victoria's Secret Angel Glow Luminous Moisture Mousse, which offers a "weightless cloud of moisture." The whipped mousse has luminous crushed pearls for a radiant glow and "allure of an angel." The 6.5 oz mousse is dispensed by the Wren accessory from Aptar Beauty + Home.
Victoria's Secret Angel Glow Luminous Hair Shine is a weightless mist that adds gloss and life to dry, dull hair yet. The feather-light formula offers an "ethereal shine and halo glow" and is formulated to complement favorite Victoria's Secret fragrances. The 3.4 oz package is topped by the EuroMist spray pump from Aptar. 
Autumn is in the air…
The trend toward scents from the food and natural worlds continued in popular scents in the U.S. home fragrances market, which hit another year of record high growth in 2014, according to market research firm Kline's Home Fragrances: U.S. Market Analysis & Opportunities report. Another noticeable trend in 2014 was outdoor and masculine scents preferred as indoor fragrances. Accounting for over 50% of total market sales, the luxury segment continues to drive this market.
"Home fragrance has been a part of home décor since the 1990s," said Sagar Gehra, Senior Consultant at Kline. "Nowadays, the esthetic appeal and home décor value continue to be important facets that help marketers stand out and drive product sales across all channels, be it prestige or mass. What also helps sell products is creative and giftable packaging ideas that allow consumers to experience the scent while on shelf."
Yankee Candle Co., Inc. unveiled its new fall 2015 fragrances available in Concentrated Room Spray. The new fragrances embrace the vivid colors and scents of autumn: Autumn in the Park (fresh peeled apple, fallen leaves, lemon zest and pumpkin) and Crisp Morning Air (eucalyptus, mint, soft pear and sage). Each can promises 300 sprays.
"Our new fall line is all about embracing the colors, scents and flavors of the season," said Geoff Medeiros, Yankee Candle VP of Brand & Product Development.
Procter & Gamble's Febreze Fall 2015 Limited Edition Collection of air fresheners includes Air Effects Apple Delish in the scent of fresh-baked green apples and berries. Jolly Pine offers the sparkling freshness of a wintry forest indoors. There is also the spicy-sweet scent of Air Effects Pumpkin Bliss and Air Effects Cranberry Cheer, a tartly sweet, odor-eliminating cocktail. 
Reckitt Benckiser (RB) is launching "dry" Air Wick aerosol air fresheners in the UK following "major success" in France. Air Wick Pure, launched in France in April, it is the first aerosol from the brand made with no added water. It launched in the UK in the seasonal scents of Cherry Blossom, Mulled Wine, Spring Delight, White Vanilla and Mediterranean Sun. The range had been developed for a spray with "no wet fallout," according to RB Marketing Director Jerome Lemaire, who expects Air Wick Pure to drive category growth in the air freshener segment.
Fall fragrance launches
With three years of consecutive double-digit growth, women's scents in the U.S. have grown in lighter concentrations such as colognes, while men's scents are experiencing the greatest lift in eau de parfum (EDP), a richer concentration not traditionally used by male U.S. consumers, according to global information company The NPD Group.
Prestige retail dollar sales of men's EDP reached $51 million in the 12 months ending February 2015, almost doubling in sales from two years before. On the other side, cologne is a leader in women's prestige fragrance and reached $69.6 million in sales during the most recent time period.
"Women's fragrance behavior ties together with their movement towards natural beauty, said Karen Grant, Global Beauty Industry Analyst, The NPD Group. "Like the growth of active wear in apparel and footwear, growth in the more subtle fragrance concentrations complements the lifestyle elements of casualness growing within the women's market."
Nina Gold Edition, a limited edition fragrance from Nina Ricci Woman, was launched in September for the 2015 holiday season only. Nina Gold Edition is a floral-fruity gourmand fragrance with top notes of lemon and lime. The juicy, caramel heart comes from candied apple, praline note and vanilla. Base notes are sweet peony, Moonflower, apple tree, white cedar and musk. The 50mL packaging is supplied by Pochet.
As autumn rolls in, Tommy Bahama wants to keep it hot with a fragrance that evokes the Caribbean island of St. Kitts. Tommy Bahama St. Kitts for Women eau de toilette spray launched this month, inspired by the serene beaches and exotic essence of an island oasis, according to fragrance licensee Parlux. A tropical cocktail of juicy pear, mango and starfruit complement a sweet bouquet of florals, creamy musk and driftwood to create a radiant fragrance reminiscent of the warm sea breeze before sundown.
Sandalwood is Bond No. 9's latest single-note eau de parfum. The unisex Bond No. 9 Sandalwood has starter notes of tangy carrot, along with violet-like orris and spicy cardamom. They segue into the heart of sandalwood, ripe fig and papyrus. The lingering base combines animal musk, woody oakmoss, and honey-like amber. The bottle and overcap are supplied by Luigi Bormioli.
Recently launched is Euphoria Essence Calvin Klein, a new, limited edition 100mL EDT of Euphoria Calvin Klein fragrance for women and men. Euphoria Essence is a floral-fruity-oriental fragrance by perfumers Yves Cassar and Jean-Marc Chaillan. The top notes are raspberry, pink pepper and blackberry. The heart captures orchid, lily of the valley and jasmine, while the base is made of patchouli, cashmere and white chocolate. Euphoria Essence Men, developed by perfumer Jean-Marc Chaillan, begins with Italian bergamot, ivy leaves and mineral accord. White pepper, jasmine and suede in the heart are laid at the base of amber, guaiac wood and tonka bean.
Designer and entertainer Jessica Simpson, along with Parlux Fragrances, Inc., introduced the newest scent to her fragrance portfolio, Jessica Simpson TEN, part of a limited edition capsule collection to commemorate the tenth anniversary of her fashion business. Perfumer Marypierre Julien of Givaudan created the scent, comprised of fruity notes of clementine, starfruit, nectarine, plum and watery fruits. The body of the fragrance encompasses powerful floral bouquets of frangipani, night blooming jasmine, orange flower and tiger lily. A base of vanilla, white chocolate bean accord, sandalwood, tonka bean and driftwood provide the undertone. Launched in September, the bottle and cap are provided by Fiampack and the pump is from Albea.
Ghosts of Christmas Yet to Come
Christmas and other winter holidays are a vitally important time of the year to retailers and consumers alike. However, holiday spending remains vulnerable to factors such as a difficult economy, rough weather and shorter shopping seasons, along with the longer-term concerns involving smaller households not being as engaged as larger families, according to Mintel. Retailers and consumers are also both locked into a cycle of falling prices and declining service that ultimately may not really benefit either party.
Going forward, retailers and others hoping to get more from the winter holidays would be wise to rethink traditional ways of doing business and look to appeal to less traditional customers. By making the holidays less about family and children, and more about treating yourself while acknowledging everyone important in your life, marketers can drive more enthusiasm for the holidays, said Mintel.
Gift Returns Cause Shoppers Stress
According the latest LoyaltyOne research, 50.9% of U.S. shoppers say that returning gifts adds to their post-holiday stress, and 39% say they have re-gifted a present just to avoid the hassle of the retail return process. The results of a nationwide survey LoyaltyOne conducted at the height of the post-holiday shopping season suggest the gift return experience is both a high-risk and high-reward retail touch point.
High-risk: More than 60% of consumers say they would stop shopping at a retailer after a poor gift return experience.
High-reward: More than 79%) say a positive experience returning a gift to a store that they rarely visit would motivate them to shop more often at that store, and 83.3% say they would share information about a positive gift return experience with friends and family. An even greater number of shoppers, 86.9%, say they would share a negative return experience with friends and family, providing yet additional evidence that the customer relationship is on the line.
"The concept of high-risk touch points continues to gain the interest of retailers, as customers are increasingly fickle and their loyalty is divided," said LoyaltyOne Consulting Managing Partner Dennis Armbruster. "It's no longer just about attracting shoppers to the store, it's about cultivating their loyalty through the entire sales and return process."
Armbruster noted that the retailer who handles the return incorrectly has much more to lose than the sale. "Social media has made the returns process a winners or losers game in the court of public opinion. Retailers should use shopper data to identify who their best customer segments are, and base return policies on what would suit this group."
Some other key findings from the research on the gift return experience:
More men indicated they have had a poor experience returning a gift to a retailer (45.1% of men vs. 31.7% of women);
More men indicated they would be motivated to shop more at a retailer they rarely visit after a positive gift return experience (81.7% of men vs. 70.7% of women);
55.5% of millennials (ages 18-24) say they are stressed by the gift return experience, significantly above the rate of the general population (50.9%);
57.9% of women say they are stressed by the gift return experience, well above the rate of the general population (50.9%);
54.9% of Northeasterners say they are stressed by the gift return experience, scoring higher for stress than respondents from the Midwest, South and West.
Source: Loyalty One